"We are all in this together"! Well we really are in this fight together - some may question why I would wish to align the campaign to fight against Richard's extradition to the US with the fight of Babar Ahmad and Talha Ahsan who are "accused" of terrorist related activities over the internet.
Well the reasons are because, it is not about guilt or innocence, it is not about the alleged crime - it is about the right to British Justice for British people who have never set foot in the US. America does not allow the extradition of its citizens for crimes which they are alleged to have committed on US soil.
Richard, Gary,Babar & Talha all deserve the right to British Justice no matter what the outcome of that might be.
Americans are protected by their own constitution and have the right to be tried in their own country whatever the alleged crime. As a consequence of this, the UK government does not request such cases to be extradited to the UK for the simple reason that it will not be allowed therefore it would be a waste of time asking!
We have to question why the US government does not want British citizens to have the same rights and protections as their own people? Some "Special Relationship"!
As this recent Freedom of Information request shows Not one American has been extradited to the UK for a crime committed in the US
Freedom of Information Request -UK Home Office
Newslinks:
ITV News
BBC video below
Twitter hashtag for this event #extraditiondemo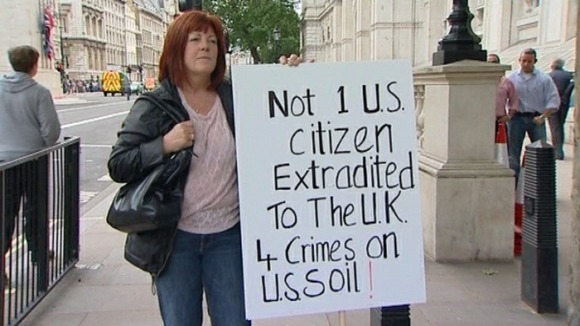 What a fantastic day for our demonstration brilliant sunshine and no rain! There was a fantastic turnout of around at least 300 supporters all with some great banners, T shirts and other displays on support, anger and outrage at this great injustice.
Here are a few images from the day